Entrevista a Djeff Afrozila, Dj/Productor desde Angola!! Afrohouse y su expansión a todo el mundo, el increíble sello Kazukuta y la celebración de su primer aniversario, su próximo disco "Soldier Ascencion" y mucho más en esta increíble nota internacional.
Interview with Djeff Afrozila, DJ/Producer from Angola! Afrohouse music and its expansion around the world, the incredible Kazukuta Records and the celebration after the first anniversary, his upcoming album "Soldier Ascencion" and much more in this incredible international interview.
Por Diego Barreiro
Leer entrevista/Read the interview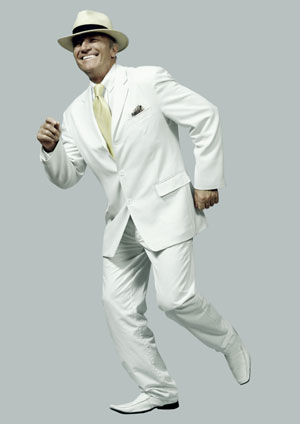 Entrevista a Louie Austen, célebre cantante de la música electrónica, y también de standards clásicos. Recientemente editó un EP y un nuevo disco "What a Comeback!" y podrán escuchar su música, enterarse de los próximos proyectos y descubrir un artista con una trajectoria elegante!
Interview with Louie Austen, famous singer of electronic music, as well as classic standards. Recently released an EP and a new album "What a Comeback!" , you can listen to their music, learn about upcoming projects of Louie and discover an artist with an elegant trajectory!
Por Diego Barreiro
Entrevista al cantante GENERAL KNAS, desde Suecia con reggae para todo el mundo!. Conexiones y videoclips con Capleton, Sizzla, y amistades con Etzia, artista que ya hemos entrevistado.
Interview with GENERAL KNAS, singer from Sweden with reggae music for everyone!. Connections and video clips with Capleton, Sizzla, and friendships with Etzia, we've interviewed this year.
Por Diego Barreiro
Leer entrevista/Read the interview
Entrevista al grupo THE RAVEONETTES, luego de la salida de su nuevo disco "Observator", hablamos sobre la actualidad del grupo, la gira con shows sold outs, próximos pasos y les preguntamos si vendrán a Sudamérica en el 2013.
Interview with The Raveonettes, after the release his new album "Observator"!! We talked about the news of the group, the tour with the sold outs shows in London, the next steps and we asked if they will come to South America in 2013.
Por Diego Barreiro
Leer entrevista/Read the interview
¡Tenemos más entrevistas para presentarte!
1 - 2 - 3 - 4 - 5 - 6 - 7 - 8 - 9 - 10 - 11 - 12 - 13